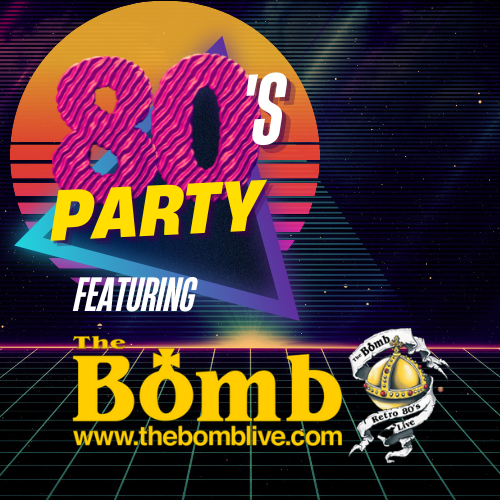 When: To be announced
Where: Scugog Community Centre, Port Perry
Tickets: $30 each
Cash bar service available. 19+ event.
Light food available late night.
Doors open at 8pm
PLEASE NOTE:
Our ticketing platform Zeffy will suggest adding an additional amount to your purchase to help support their work to keep the service free for non-profits like us. This is a VOLUNTARY contribution.
If you do not wish to add an extra amount, on the Payment page you can select OTHER from the drop down menu and enter $0.
The BOMB, a live retro '80s tribute, all your favorite hits in one show!
The Bomb is a professional four-piece tribute band that embraces the decade of the '80s and plays all the top new wave dance and party hits from that era (as opposed to '80s hair band music or heavy metal).
The Bomb covers well known music by Bowie, U2, Tear For Fears, Duran Duran, A-ha, Hall and Oates, The Cure, Simple Minds, Billy Idol, Prince, The Cars, Depeche Mode, The Clash and much, much more.