Our volunteer mentors make an impact every day in the lives of our Littles.
Her mentor Emily guided her through some dark times. Mom Melissa shares how Emily has supported Natasha and their family:
"Emily has supported our family through changes and challenges with encouraging words and a listening ear.
By far the biggest change is in our daughter Natasha. She has gone from a shy grade 2 girl when they met to a confident grade 9 teenager under Emily's gentle guidance.
Emily is a reliable and strong role model for Natasha to trust and chat with. Our family is forever blessed by the positive influence Emily has had on all three of us."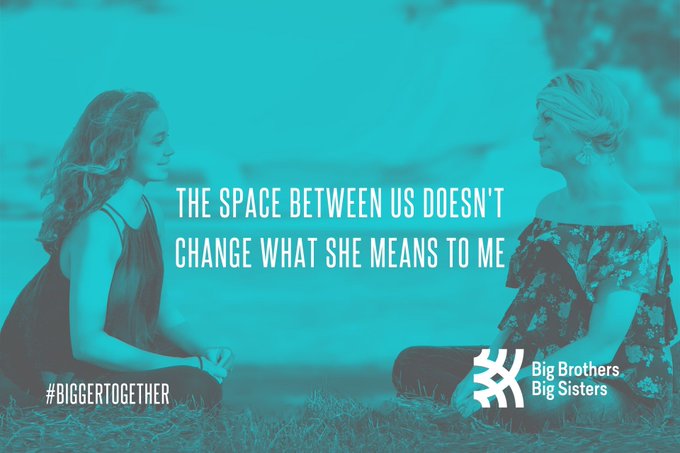 How The Volunteer Process Works
How The Volunteering Process Works
The order of the steps in the application and assessment process can vary from agency to agency, but the following is a general overview of the process. You, the volunteer applicant:
Completes an application with their local agency
Submits a vulnerable sector screen, criminal records check, and three or four references
Participates in a one-to-one interview with a staff member at the Big Brothers Big Sisters agency
Depending on the program, may be asked to participate in an assessment of their home environment
Successfully completes an orientation and child safety training
Is notified of their acceptance/non-acceptance
If accepted as a volunteer mentor, signs an agreement of confidentiality
The Matching Process
Similar to the application and assessment process, the matching process can vary from agency to agency and from program to program, but in general:
The caseworker, now familiar with the volunteer and the children and youth waiting to be matched, discusses a potential match with the volunteer, the child or youth, and, depending on the program, with the family
The caseworker arranges for a meeting between the child or youth, the volunteer mentor, and often the parent or guardian
If everyone agrees, the match can begin!